Datensatz vom 27.08.2019
Trinidad (Demo)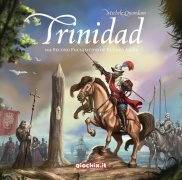 Details
Verlage:
Autoren:
Illustratoren:
Genres:
Spielmechaniken:
Release:
2020 (Demo 2019)
Anzahl der Spieler:
2 bis 5 Spieler
Spielzeit:
90-120 Minuten
Altersfreigabe:
Frei ab 14 Jahre
Durchschnittswertung:
0

/

10

bei

0

Bewertungen

Vorwort
In 1536 Pedro de Mendoza founded the city of Nuestra Senora Santa Maria del Buen Ayre along the river Rio de la Plata. After a brief period of collaboration, the relationship with Natives ruined down for the Conquistadores arrogance. A war started, and an alliance between different Natives groups successfully drove the invaders from their land and destroyed the city.
Almost fifty years later, Juan de Garay lead a new expedition and founded a new city in the same zone with the name of Ciudad de Trinidad. This city has become the modern Buenos Aires. Just like the first time, resources are low and the Natives, aware of the danger represented by the Spaniards, are ready to combat the intruders. What's more, now the Corsairs paid by the English Crown threaten the new Spanish settlement!
In Trinidad players represent the chiefs of the Spanish families of Buenos Aires. The game is set in 1580 and cover the following 120 years, allowing the players to develop the city how they think is better. They can promote commerce with Spain, constructing a Harbor, and creating many productive buildings, or in another way, they can promote the construction of the biggest city buildings like the Cathedral, the Fort or the Cabildo. They can chase the richness, try to build an army or try to collaborate with the Church. They can link their policy to some famous city character, which will push a specific skill. But also this decision will not be easy! Some city representatives want to exploit all available resources and do a new war with Natives. Others push to collaborate with them, try to join forces and combat with the Corsairs. And you, what will you do?
Trinidad is a strategy game based on player actions and worker placement 2.0 mechanisms where workers are multiple functions and can be used in several different ways. The game includes also several other mechanicals like actions cards combination, characters management, trades and diplomacy. The game comes full of great miniatures for historical buildings, workers, conquistadores, and warriors.
Trinidad is inspired by the 2010 board game Rio de la Plata.
Dies ist ein Spiel-Datensatz. Bislang wurde noch kein ausführlicher Spieltest hinterlegt.
Momentan sind zu diesem Spiel noch keine Wertungen vorhanden.


Bilder
Momentan sind zu diesem Spiel noch keine Videos vorhanden.
Ähnliche Spiele
Per Doppelklick auf das Cover könnt Ihr zum Test des ähnlichen Spiels springen:
Leserkommentare
News