Datensatz vom 12.09.2018
Skull Tales: Full Sail!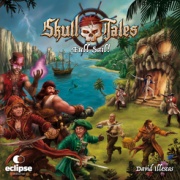 Details
Verlage:
Autoren:
Illustratoren:
Genres:
Spielmechaniken:
Release:
2019/2021
Anzahl der Spieler:
1 bis 5 Spieler
Spielzeit:
60-150 Minuten
Altersfreigabe:
Frei ab 14 Jahre
Durchschnittswertung:
0

/

10

bei

0

Bewertungen

Vorwort
Skull Tales: Full Sail! is a semi-cooperative pirate adventure game for 1 to 5 players. In Skull Tales, you are a pirate of the Caribbean Sea in search of fame and fortune. The game is played out in three phases: Adventure, Journey, and Port. These phases are games in and of themselves with mechanics and components of their own. There are also many RPG elements.
- During the Adventure phase, you will explore mysterious islands, dangerous caves, abandoned temples, and pillage colonial villas. You will come up against treacherous red coats and their officers and cross swords with conquistador skeletons all while trying to evade curses from Mayan mummies. And don't forget the mighty darkclaw and his abominations ruled by Yemaya, Goddess of the Sea. Amazing treasures and legendary artefacts that no man has ever laid eyes on await you in the phase of the game.
- In the Journey Phase, you will form part of the crew of 'The Southern Lady' sailing the menacing seas of the Caribbean in search of valuable treasures. You will board ships and face all kinds of dangers like the most-feared creatures of the seven seas. Make sure you win the trust of your fellow crewmates when it comes time to mutiny so you can take on the captaincy and benefit from its many privileges...
- Finally, you will have the chance to rest and spend your booty during the Port Phase. Upon your arrival to Tortuga, you will be able to visit the cantina, listen to rumours, and tell great stories about your feats that will turn you into a legendary pirate. You can also visit Madame Claude's Mansion and be treated like a noble. Perhaps, though, you prefer to go to the market to buy that sword that'll come in handy for your next adventure. And, of course, if you go down to the docks you can take on some assignments for the Captain who is always willing to earn a few extra doubloons selling contraband. For those troubled souls in search of a cure for some curse or wound, there is the Chapel. But watch out! The streets of Tortuga can be dangerous and you never know what surprises they might have in store for you. And remember, best be on time when it's time to embark or you'll lose prestige!
Dies ist ein Spiel-Datensatz. Bislang wurde noch kein ausführlicher Spieltest hinterlegt.
Momentan sind zu diesem Spiel noch keine Wertungen vorhanden.


Bilder
Momentan sind zu diesem Spiel noch keine Videos vorhanden.
Ähnliche Spiele
Leserkommentare
News