Datensatz vom 15.09.2018
The Dead Eye (Demo - Spiel erscheint 2019)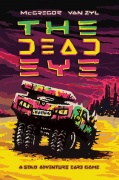 Details
Verlage:
Autoren:
Illustratoren:
Genres:
Spielmechaniken:
Release:
2019 (Demo 2018)
Anzahl der Spieler:
1 Spieler
Spielzeit:
10-30 Minuten
Altersfreigabe:
Frei ab 8 Jahre
Durchschnittswertung:
0

/

10

bei

0

Bewertungen

Vorwort
Sat-feed chatter from low-orb bio-cols call it the Bruise.
A swirling endless hurricane-vortex of black-crowed tox sleet and electro-static chaos.
To deep-space cargo lines passing the outer belts, the distant planet with its eternal new moon, is named after the legend -
A handful of hardened surf-dwellers seek pilgrimage beyond that poisonous storm - battling north through screaming weather and alien mutation, to reach promise of new life in the still white pupil of the dead eye.
The Dead Eye is a survival adventure card game for one player, set in a cosmic apocalyptic world.
The single player must battle across an inhospitable planet, salvaging parts, on a quest to reach the center of the Dead Eye.
Game-play involves drawing cards from a a single deck.
The player must either choose to encounter the Situation shown on the drawn card ( if not already encountering a Situation ) and place the card in the Encounter slot, or use the card for its Juice or Heat resource, placing the card in its respective good or bad icon stack on either side of the current encounter card-slot.
When the number of resources in a stack match the good or bad effect trigger shown on the current Situation, the card is triggered for a good or bad game effect. All resources that triggered the card are then discarded.
When the draw deck is depleted, the discard pile is shuffled to form a new draw deck.
The player begins with 5 Fortune and 5 Misfortune cards. Should a card effect require that either of these cards be added to the discard pile and the player is unable to do so, the player loses the game.
The base game is played over a series of Chapters that form a Story campaign.
The object of the game is to complete a Chapter before losing the game.
Th object of the campaign is to complete all Chapters in a set number of games. After each Chapter attempt, a Misfortune and Fortune card is discarded from their respective decks, and a new Fortune and Misfortune is added (in order) from the two remaining out-of-game Fortune and Misfortune decks.
When a player is required to add a new Misfortune or Fortune card to an in-game deck and is unable to do so, the player has lost the story campaign.
The game features 3D anaglyphic glasses, 54 3D-enabled cards, player mat and rulebook.
Dies ist ein Spiel-Datensatz. Bislang wurde noch kein ausführlicher Spieltest hinterlegt.
Momentan sind zu diesem Spiel noch keine Wertungen vorhanden.


Bilder
Momentan sind zu diesem Spiel noch keine Videos vorhanden.
Ähnliche Spiele
Per Doppelklick auf das Cover könnt Ihr zum Test des ähnlichen Spiels springen:
Leserkommentare
News