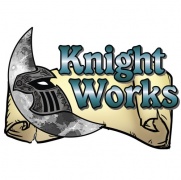 Homepage:
http://www.knightworks.net
Knight Works, LLC
Knight Works is located in Colorado Springs, Colorado. The Knight Works team is a small but ornery and determined group of individuals. Back in 2000 they started work on the board game Shadow Wars and slowly gained the support from the local gamers in the Colorado Springs area. They eventually released Shadow Wars back in 2001 as a self published game that was produced by hand.
The group took a break from designing back in 2003, but started back into game design in 2007. They put together a dungeon crawl game called Legends of Syrrith but had some problems with the overall flow of the game and mechanics and it was unfortunately put on hold. After Legends of Syrrith the group started work on their current game called Dark Horse.
Dark Horse will be the first professionally printed game from Knight Works.
Momentan sind zu diesem Profil noch keine Videos vorhanden.