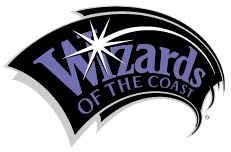 Homepage:
http://wizards.com/
Wizards of the coast
Tochterfirma von Hasbro. Vor allem bekannt für das Trading Card Game "Magic - Die Zusammenkunft".
RSS
Aktuelle News
Montag 26.10.2015

Nachricht von 19:06 Uhr, Smuker, - Kommentare

"Magic: The Gathering" ist das bestverkaufte Sammelkartenspiel der Welt und fasziniert seit 1993 tausende von Menschen auf der Welt. Im Prinzip hat das Spiel das "Sammelkartenspiel Genre"...

...
Freitag 28.01.2011
Nachricht von 15:42 Uhr, Smuker, 1 Kommentare

Seit Beginn des Jahres 2011 hat die Pegasus Spiele Verlags- und Medienvertriebsgesellschaft mbH die offizielle Distribution aller Avalon Hill Titel von Wizards of the Coast (Hasbro) für Deutschland und...

...
Weiter zu allen News