Datensatz vom 05.08.2016
Rhyme: The Rap Challenge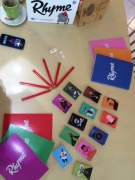 Details
Verlage:
Genres:
Spielmechaniken:
Release:
Anzahl der Spieler:
0 Spieler
Spielzeit:
Altersfreigabe:
Frei ab 0 Jahre
Durchschnittswertung:
0

/

10

bei

0

Bewertungen

Vorwort
Rhyme: The Rap Challenge is a unique party game for everyone in which players are aspiring rappers competing to find out who can create the best rap song.
In order to do that, players have 4 rounds in which they must write 4 verses – 1 in each round. As this is a rap song the 4 bars in each verse must rhyme.
Each round players must draw 3 cards from 1, 2, or 3 of the different categories in front of them and choose 1 word from each card – 3 words in total. They have to use those words in order to create their verse in 3 minutes time.
In the first round that might seem quite easy as they can write about anything they wish – which will probably be funny anyway.
The real fun begins after the first round because players have to choose 3 new words from different categories on each successive round and use them to create their 2nd, 3rd and 4th verses while trying to keep a thematic cohesion with the first verse – they are writing a song after all.
This is easier said than done as the categories do not match between them e.g. pirates, purse, body, house, football, fairy tales, farm and more, so things get easily out of hand resulting in lots of fun and laughter from the verses created.
The best part though is that in the end of each round players will have to rap their verse on one of the beats, which will be available to choose from on the game's app. Then players will vote, by simultaneously pointing at the player with the best verse in their opinion.
Scoring - Each round players have the ability to gain points as follows:
1 point for each word that was used in the verse,
3 point for each word that was used to rhyme,
1 point fro the player who finished first each round,
1 point for each vote for the best verse, at the end of the 1st, 2nd and 3rd round.
At the end of the 4th round players will rap their whole song and then have the final voting for the best song. The player with the most votes scores 3 points.
When the 4 rounds are over the player with the most points is the winner.
Dies ist ein Spiel-Datensatz. Bislang wurde noch kein ausführlicher Spieltest hinterlegt.
Momentan sind zu diesem Spiel noch keine Wertungen vorhanden.


Bilder
Momentan sind zu diesem Spiel noch keine Videos vorhanden.
Ähnliche Spiele
Per Doppelklick auf das Cover könnt Ihr zum Test des ähnlichen Spiels springen:
Leserkommentare
News