Datensatz vom 25.08.2013
Kill the Overlord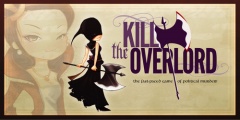 Details
Verlage:
Autoren:
Illustratoren:
Genres:
Spielmechaniken:
Release:
2013
Anzahl der Spieler:
4 bis 8 Spieler
Spielzeit:
45 Minuten
Altersfreigabe:
Frei ab 8 Jahre
Durchschnittswertung:
0

/

10

bei

0

Bewertungen

Kill the Overlord war ein Kickstarter Projekt.
It's good to be the Overlord. You have minions to grovel at your feet, limitless wealth, and absolute power over all the lands – but you know that your subjects are plotting. They envy your wealth and hope to steal it for themselves, specifically by removing you from the picture.
So you've decided to secure your power and eliminate these individuals by sending your executioner out with orders to kill the first person he meets. Unfortunately, your executioner is a gullible fellow who's extremely enthusiastic about his job – easy to dissuade and misdirect, if you're clever enough.
Who will be the first player with no excuse to miss his own funeral? Once the axe starts swinging, not even the Overlord is safe!
Kill the Overlord is a fun, fast-paced game of political murder for 4 to 8 players that can be played in about twenty minutes. The goal of the game is simple: Eliminate other players by sending the Overlord's executioner after them, while at the same time saving your own skin. Each time a player dies, his survivors climb another rung up the political ladder, taking the deceased's title and all the wealth and power that comes with it. The player who can secure enough wealth and the title of Overlord first will become the True Ultimate Supreme Overlord (and win the game).
Dies ist ein Spiel-Datensatz. Bislang wurde noch kein ausführlicher Spieltest hinterlegt.
Momentan sind zu diesem Spiel noch keine Wertungen vorhanden.


Bilder
Momentan sind zu diesem Spiel noch keine Videos vorhanden.
Ähnliche Spiele
Leserkommentare
News