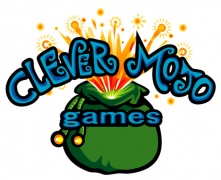 Homepage:
http://www.clevermojogames.com
Clever Mojo Games
Ein kleines Entwicklerstudio in Washington, USA.
RSS
Aktuelle News
Dienstag 29.01.2013

Nachricht von 20:35 Uhr, Jörg, 4 Kommentare
Das Spiel stellen wir euch auf dt./engl. vor, viel Spaß! Offizielle Infos: In the tile-laying game Sunrise City, players build a city with zone tiles, bid for control of those zones,...

...

Nachricht von 20:31 Uhr, Jörg, - Kommentare

Sehr ausführlich gehen wir in diem Video auf das Spiel und die Erweiterungen ein. Offizielle Beschreibung (Quelle: Boardgamegeek): Do you have what it takes to be a deep space colonist?...

...
Weiter zu allen News