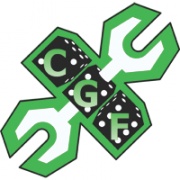 Homepage:
http://www.cambridgegames.com
Cambridge Games Factory
Cambridge Games Factory began in 2004 as a late night conversation at the MIT Strategic Games Society about the challenges for new designers to get prototypes into print. A year later, we published our first four games: Glory to Rome, Ice Pirates of Harbour Grace, Splat!, and Sneeze. We're delighted by the superb player feedback and reviews they have received--especially since this helps build interest in our games without a huge marketing budget.
Momentan sind zu diesem Profil noch keine Videos vorhanden.