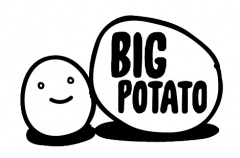 Homepage:
http://bigpotato.co.uk/
Big Potato
Big Potato is a games company that's as versatile as its vegetable namesake. We turn our hands to everything from quiz games to party games, kids games to toys. Sometimes we develop and bring to market home-grown ideas, sometimes we nurture other people's.
Whichever, we love cultivating good ideas and turning them into genuine crowd-pleasers.
RSS
Aktuelle News
Donnerstag 31.05.2018
Nachricht von 15:00 Uhr, Mathias, - Kommentare
Asmodee hat auf der eigenen Homepage für das Ende des Sommers die deutsche Version des 2015 erschienenen Partyspiels Bucket of Doom aus dem Hause Big Potato angekündigt. In diesem...

...
Freitag 15.12.2017

Nachricht von 15:54 Uhr, Smuker, - Kommentare

Der englische Autor Rikki Tahta ist spätestens seit "Coup" vielen Spielern ein Begriff. Er hat mit seiner ganze Familie den Kleinverlag "La Mame Games" 2012 gegründet...

...
Weiter zu allen News
vorstellung vom 15.12.2017
The Chameleon (Big Potato Games) / Essen 2017