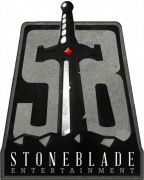 Homepage:
http://stoneblade.com
Stone Blade Entertainment
Stone Blade Entertainment wurde 2010 von Justin Gary unter dem NAmen "Gary Games" gegründet. Nach dem Erfolg von "Ascension: Chronicle of the Godslayer" wurde der Verlag 2012 in Stone Blade Enterteinment umbenannt mit dem Ziel auch elektronische Umsetzungen zu verwirklichen.
Momentan sind zu diesem Profil noch keine Videos vorhanden.