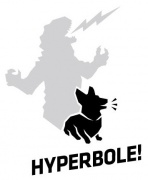 Homepage:
http://www.hyperbolegames.com
Hyperbole Games
Hyperbole Games was established for two reasons:
1. To act as a design studio for larger games and seek the best publishing partners
2. To publish small, niche card games
Hyperbole Games was founded in 2014, but we have been studying and designing tabletop games for 5 years and digital games for 10 years. We're based in San Francisco, California and hope to, over time (so much time!) be known as a company with great ideas, fun, polished games, and great customer service.
Our first Hyperbole Games title, Hocus, is available for PNP now on BGG. It will hopefully be in stores in early 2016.
We have a title signed with Portal Games for hopeful publication in 2016. We've also designed Farmageddon and its expansion, Livestocked and Loaded, for which we are seeking a new publishing partner.
Momentan sind zu diesem Profil noch keine Videos vorhanden.