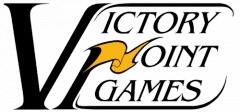 Homepage:
http://victorypointgames.com
Victory Point Games
Victory Point Games is a small format, indie board game publisher based in Costa Mesa, California. We pride ourselves on being an All-American company; each Victory Point game is printed on demand and handcrafted locally in our facility. Though our business was founded on a passion for the historical war genre, over the years we have enthusiastically expanded our repertoire to include strategy, card, family, and casual board games. Our focus is to produce easy to learn, easy to teach, and quick to play games that are fun and accessible for any level of gaming experience.
Producers of the Napoleonic 20 series, States of Siege series, and BATTLESSON (TM) series.
RSS
Aktuelle News
Donnerstag 05.07.2018
Nachricht von 10:30 Uhr, Mathias, - Kommentare

Der Berliner Verlag Frosted Games hat auf seiner Homepage verkündet, dass er eines der thematischsten und vielfach ausgezeichneten Solo-Spiele 2019 nach Deutschland bringen wird. In...

...
Weiter zu allen News
Momentan sind zu diesem Profil noch keine Videos vorhanden.