Datensatz vom 20.09.2013
Kitchen Garden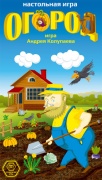 Details
Verlage:
Autoren:
Illustratoren:
Genres:
Spielmechaniken:
Release:
2013
Anzahl der Spieler:
2 bis 4 Spieler
Spielzeit:
30 Minuten
Altersfreigabe:
Frei ab 10 Jahre
Durchschnittswertung:
0

/

10

bei

0

Bewertungen

From time to time, you just want to get away from the city, travel to your village, and once there in the fresh air with a spade and rake in hand, cultivate your piece of land. You want to plant in your garden seeds of various crops, then sit on the terrace and sip tea, waiting for the watered and fertilized earth to give birth to mountains of beets and carrots, cabbages and strawberries, cucumbers and turnips, tomatoes and zucchini. But alas, you have too many urgent things to do in the city and cultivating a garden is both time-consuming and physically hard, so all of your dreams remain mere dreams...
Kitchen Garden lets you fulfill these dreams of gardening without getting soil under your fingernails. Each player receives a task card at the start of the game that depicts four garden beds and the specific number of four types of plants that the owner of the task card must plant. What's more, the task card indicates whether a garden bed must include two or three cards. Each player starts with a hand of four cards – with the deck containing plant cards of four types (with 1-3 plants per card) and the action cards Weed, Worker and sluggard – and one of each special card: Bazaar, Crow and Holiday. Six cards start face up in the market.
On a turn, a player can first discard a Worker card or special card (or both) to gain additional actions during the next phase; he can also play Sluggard on an opponent to make him lose his turn. Next, the player takes one action (and possibly up to three): draw a card, plant a card, swap a card in the market, or play or remove a Weed. He can also play special cards to refresh the market, force everyone to discard and draw, or draw from the discard pile; once all players have played the same special card, each player has access to that card once again. At the end of a turn, the player must discard to four cards.
Whoever first completes the four garden beds on his task card with the proper number of cards showing the proper number of plants wins!
Dies ist ein Spiel-Datensatz. Bislang wurde noch kein ausführlicher Spieltest hinterlegt.
Momentan sind zu diesem Spiel noch keine Wertungen vorhanden.


Bilder
Momentan sind zu diesem Spiel noch keine Videos vorhanden.
Ähnliche Spiele
Per Doppelklick auf das Cover könnt Ihr zum Test des ähnlichen Spiels springen:
Leserkommentare
News