Datensatz vom 19.01.2015
Höyük: Anatolia (Hoyuk Anatolia) - 2. Erweiterung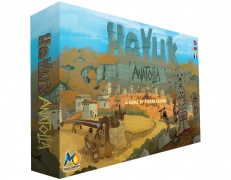 Details
Verlage:
Autoren:
Illustratoren:
Genres:
Spielmechaniken:
Release:
2015
Anzahl der Spieler:
2 bis 5 Spieler
Spielzeit:
90 Minuten
Altersfreigabe:
Frei ab 10 Jahre
Durchschnittswertung:
0

/

10

bei

0

Bewertungen

The world is moving into a new era, and now more than ever the clans work for the progress and the evolution of their community. Everyone tries to find new ways to improve their lives, new means to grow their lands and new constructions that create an easier life. In Höyük: Anatolia, you must prove your quality through three different Achievements: build a Water Supply System for your village so the water can reach your land, throw the best Fest in the valley, and finally, build two Artifacts!
Each player chooses to complete two different Achievements at the beginning of the game. Each player who has managed to keep their Achievements intact until the end of the game will score additional Victory Points but most importantly each Achievement will score a different amount of points. The players use Drop counters in order to build the Water Supply System. Five Drop counters must be placed on five Houses of the same color and of the same Block. Furthermore these Houses must be connected to each other and at least one of them must be placed on the river or the lake of the game board. To place a Drop counter on a House, players must wait until the Construction phase and then choose not to build one of three Elements of their Construction board.
The Artifacts can be built easily but can be destroyed as easy as well because they are affected by all Catastrophes. Players can build an Artifact on the top of their Houses at the same way as the Drop Counters but in this case this House must be 2 stories high. If players do not complete this Achievement by the end of the game, they can still score Victory points. This is the only Achievement that has an advantage but it also gives less Victory Points.
This is an era where tribes search for a way to upgrade their social status, so they throw several Fests where they meet each other and celebrate. This is the last Achievement where players create the best Fest in the Valley by offering five different materials. These materials can be found on the Fest tokens but also on the Aspect cards. The Aspect cards have different images that must be matched with the Fest tokens. Once players have five Aspect cards that match with five Fest tokens, they discard them to score Victory points at the end of the game.
Dies ist ein Spiel-Datensatz. Bislang wurde noch kein ausführlicher Spieltest hinterlegt.
Momentan sind zu diesem Spiel noch keine Wertungen vorhanden.


Bilder
Momentan sind zu diesem Spiel noch keine Videos vorhanden.
Ähnliche Spiele
Per Doppelklick auf das Cover könnt Ihr zum Test des ähnlichen Spiels springen:
Leserkommentare
News
RSS
Aktuelle News
Montag 19.01.2015
Nachricht von 20:52 Uhr, Smuker, - Kommentare

Der Mage Company Verlag hat auf kickstarter.com die Hoyuk-Erweiterung "Anatolia" online gestellt. Wir haben das für ein Interview mit Alexander und Michael genutzt und fragen sie wie...

...
Weiter zu allen News