Datensatz vom 22.09.2013
The Witches: A Discworld Game (Auch als Collectors Edition)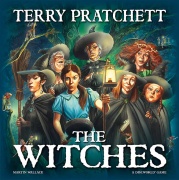 Details
Verlage:
Autoren:
Illustratoren:
Genres:
Spielmechaniken:
Release:
2013
Anzahl der Spieler:
1 bis 4 Spieler
Spielzeit:
60 Minuten
Altersfreigabe:
Frei ab 10 Jahre
Durchschnittswertung:
0

/

10

bei

0

Bewertungen

Treefrog is proud to announce that September 2013 will see the release of The Witches, the second Treefrog Discworld game, based on the novels of Sir Terry Pratchett. It follows on from the success of Ankh-Morpork. With over 50,000 copies sold worldwide Ankh-Morpork continues to delight gamers and fantasy fans alike and continues to sell strongly in its third year of release.
The Witches is set in the magically charged land of Lancre. Players take on the role of trainee witches, such as Tiffany Aching and Petulia Gristle, learning their craft and dealing with all the problems that life on Discworld can throw at them. A subtle blend of headology, magic and, of course, the all-important cup of tea will see our heroines tackle everything from a sick pig to a full-blown invasion of elves.
Life can be tough for a young witch in Lancre, fear not however, a cast of some of Terry Pratchett's most famous characters will be on hand to aid your quest. Along the way you'll meet Granny Weatherwax, Nanny Ogg and Magrat Garlick, along with a rich supporting cast of familiar faces from some Pratchett's bestselling Discworld series. When things get really tough and you feel you are turning 'Black Aliss' you can always have a cup of tea with one of your fellow witches. The game can be played with up to four players, and can even be played solitaire.
The Witches is more of a gentle family friendly game, well, as friendly as you can get with Nac Mac Feegles hanging around, rather than the back-stabbing experience that is Ankh-Morpork, and can be played co operatively if players so wish. Once again Sir Terry Pratchett and the folks at the Discworld Emporium have made sure that each character is faithfully represented, with all of the artwork being produced by Peter Dennis.
As with the Discworld Ankh-Morpork game, Treefrog will be publishing a Collector's Edition of The Witches. Only 2000 copies will be produced, with no possibility of a reprint.
Available to order here late September
The main differences between this version and the standard version are:
- Four custom sculpted pewter figurines, representing the four witch characters.
- An A1 size poster presenting artwork from the game.
- A larger map.
- Different cover artwork and box size
Dies ist ein Spiel-Datensatz. Bislang wurde noch kein ausführlicher Spieltest hinterlegt.
Momentan sind zu diesem Spiel noch keine Wertungen vorhanden.


Bilder
Momentan sind zu diesem Spiel noch keine Videos vorhanden.
Ähnliche Spiele
Per Doppelklick auf das Cover könnt Ihr zum Test des ähnlichen Spiels springen:
Leserkommentare
News