Datensatz vom 31.08.2016
Star Trek Adventures (RPG)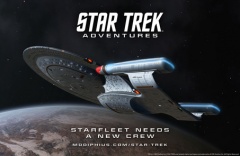 Details
Verlage:
Genres:
Spielmechaniken:
Release:
2016
Anzahl der Spieler:
2 bis 6 Spieler
Spielzeit:
240-480 Minuten
Altersfreigabe:
Frei ab 12 Jahre
Durchschnittswertung:
0

/

10

bei

0

Bewertungen

Vorwort
Modiphius Entertainment, publisher of the Achtung! Cthulhu, Mutant Chronicles, Conan, Infinity and John Carter of Mars roleplaying games, is excited to announce today the development of Star Trek Adventures, the first new official Star Trek roleplaying game to be produced in more than a decade. The news comes as Star Trek fans worldwide celebrate Star Trek's 50th anniversary in 2016.
Star Trek Adventures will use the Modiphius 2d20 game system (Mutant Chronicles, Infinity, Conan, John Carter of Mars) designed by Jay Little (Star Wars: Edge of the Empire, X-Wing Miniatures Game). Modiphius is also sculpting an accompanying Star Trek miniature figure line, the first to be produced in 17 years. Resin and metal 32mm-scale hobby figures will feature classic Star Trek characters and crews, boarding parties and away teams. Geomorphic tile maps of burning Federation ships, mysterious colonies and embattled Klingon cruisers will set the scene for dramatic new voyages in the Final Frontier.
There will be a wide range of Star Trek Adventures miniatures including many of your favourite characters as well as generic crew, away teams, boarding parties and aliens. Accompanying the range will be geomorphic map tiles of Federation, Klingon and other ships, space stations, lost colonies, ancient ruins as well as dangerous and mysterious worlds to explore.

The figures will be single piece and multi-part, and available in collector's blisters as well as crew packs giving you whole away teams or bridge crews from different eras. As you can see from the scale picture example above they are 32mm iand made in a soft resin. These two initial figures of Captain Kirk and Picard will be available to those signing up for the official playtest at the Modiphius stands at GenCon, Essen Spiele and Dragonmeet and later as part of various sets.
Dies ist ein Spiel-Datensatz. Bislang wurde noch kein ausführlicher Spieltest hinterlegt.
Momentan sind zu diesem Spiel noch keine Wertungen vorhanden.


Bilder
Momentan sind zu diesem Spiel noch keine Videos vorhanden.
Ähnliche Spiele
Leserkommentare
News