Datensatz vom 27.08.2018
Robin Hood and the Merry Men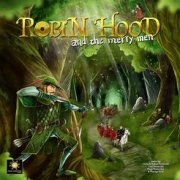 Details
Verlage:
Autoren:
Illustratoren:
Genres:
Spielmechaniken:
Release:
2018
Anzahl der Spieler:
1 bis 5 Spieler
Spielzeit:
60-90 Minuten
Altersfreigabe:
Frei ab 13 Jahre
Durchschnittswertung:
0

/

10

bei

0

Bewertungen

preview vom 19.08.2019
Robin Hood and the Merry Man (Taverna Ludica Games) + Verlagsinterview / Essen 2019 / Herner Spielewahnsinn 2019
Vorwort
Nottingham 1100 A.D.: The True King is away in the Holy Lands and the town is under rule by the evil tyrant, Prince John. He has forced matrimony upon Maid Marian and locked her in his castle against her will. The young princess sends word of her captivity to fabled outlaw and her true love, Robin Hood.
He vows to save her with help from his Merry Men — faithful souls who would follow him to hell and back! But this time, Robin sees doubt in their eyes. Little John, Will Scarlet and the other Merry Men deem the mission so perilous—it could plunge Nottingham into turmoil. Torn between love for the princess and his town, Robin devises a plan to save both! He proposes a challenge, betting his men that none can protect Nottingham as well as he. If one of them bests him at this task, he will bestow his mantle of leadership to the victor! They accept his wager, and pledge to rescue Maid Marian, no matter the outcome.
Their quest will require bravery, cunning and all the wits they can muster! Will one of the Merry Men become Nottingham's newest hero, or will Robin live up to his own legend?
Robin Hood and the Merry Men is a semi cooperative, but a highly competitive board game set in the folklore we all know and love. It's a thematic euro style game that perfectly blends worker placement, hand management, set collection and dice rolling into a one big exciting crossover.
In Robin Hood and the Merry Men, players take on the role of a famous outlaw such as Robin Hood, Little John, Will Scarlet and Jane Fortune, and their mission is to protect the town of Nottingham from the tyranny of infamous ruler Prince John and the notorious Sheriff of Nottingham throughout 5 rounds of onslaught. If they succeed, a winner is declared-the player with the most VP becomes Nottingham's greatest champion.
Each round consists of two phases: A Merry Men phase and a Hero phase.
In the Merry Men phase, you will call upon your faithful friends who are famous for their abilities to build and set various traps. In order to stay one step ahead, you will send The Merry Men to acquire resources and weapons, and lay traps to catch the Sheriff's endless army of Guards. Assigning Merry Men is done through playing Merry Men cards that offer variable actions.
With King Richard being away on the Crusades, Prince John has given the Sheriff of Nottingham power to tax the villages in and around Nottingham, so you must order your Merry Men to build barricades on the roads to prevent the heavily guarded and gold-filled carriages from entering the castle.
Before he went on his crusade, King Richard gave you certain tasks. In the midst of his struggles, he would welcome the news that his brave heroes have completed them.
In the Hero phase you will send your Hero to fight the Sheriff's guards, ambush and rob the royal carriages of their treasures, enter archery tournaments, rescue prisoners from the castle's darkest dungeons and much much more.
Dies ist ein Spiel-Datensatz. Bislang wurde noch kein ausführlicher Spieltest hinterlegt.
Momentan sind zu diesem Spiel noch keine Wertungen vorhanden.


Bilder
Momentan sind zu diesem Spiel noch keine Videos vorhanden.
Ähnliche Spiele
Per Doppelklick auf das Cover könnt Ihr zum Test des ähnlichen Spiels springen:
Leserkommentare
News
RSS
Aktuelle News
Montag 19.08.2019

Nachricht von 20:20 Uhr, Smuker, - Kommentare

Der deutsche Verlag "Taverna Ludica Games" ist neu auf dem Markt und veröffentlicht demnächst die Neuheit "Robin Hood and the merry men". Wir haben den Gründer "Florian...

...
Weiter zu allen News