Datensatz vom 23.07.2014
Agents of SMERSH: Swagman's Hope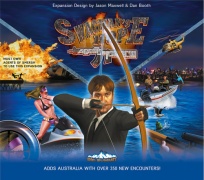 Details
Verlage:
Autoren:
Illustratoren:
Genres:
Spielmechaniken:
Release:
2014
Anzahl der Spieler:
1 bis 5 Spieler
Spielzeit:
120 Minuten
Altersfreigabe:
Frei ab 14 Jahre
Durchschnittswertung:
0

/

10

bei

0

Bewertungen

It is all going so well for you in Tahiti - sun and surf are yours to enjoy. The Director has not troubled you with silly assignments, such as escorting ill-mannered diplomats to parties; nor have you had to drop off intelligence in trash bins to be picked up by shady, desperate officials. You've made time to rest and do little other than drink martinis... Maybe you should hang up your hat and let someone else handle Dr. Lobo?
Alas, good things never last...
"Agent, you're going to Australia," the Director informs you. "As you are well aware, Australia has descended into corruption and chaos these past several years. You won't have time for barbies on the beach."
In Agents of SMERSH: Swagman's Hope, players have five new city locations to visit and a new book, featuring more than 300 encounters, with its own Reaction Sheet. Australia is the most dangerous country in the world, so why would important persons of intellect and power be trapped there? It is up to the players to come to their aid before SMERSH gets to them. Not only must players gain the normal Yellow Intel during the course of the game, but there are new Red Intel, representing scientists and researchers with vital knowledge for which Dr Lobo is hungry. Hurry to their aid before they get abducted and taken into the lawless Swagman's Hope where they may disappear forever. Swagman's Hope is a godforsaken, desert town in the middle of the Australian Outback - a dirty haven for the criminally insane and insanely criminal.
Also included in Agents of SMERSH: Swagman's Hope are new Villain, Fate and Status Cards, a new HENCHMAN, the Stranded Deck, Red Intel and Dead Drop Tokens, and 2 new UN agents to join in the hunt. Despite the town's name, hope is in short supply. Best of luck to you, Agent.
Dies ist ein Spiel-Datensatz. Bislang wurde noch kein ausführlicher Spieltest hinterlegt.
Momentan sind zu diesem Spiel noch keine Wertungen vorhanden.


Bilder
Momentan sind zu diesem Spiel noch keine Videos vorhanden.
Ähnliche Spiele
Per Doppelklick auf das Cover könnt Ihr zum Test des ähnlichen Spiels springen:
Leserkommentare
News