Datensatz vom 20.08.2019
Truck Off: The Food Truck Frenzy Roll And Write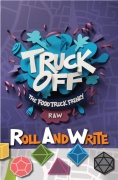 Details
Verlage:
Autoren:
Genres:
Spielmechaniken:
Release:
2019
Anzahl der Spieler:
1 bis 99 Spieler
Spielzeit:
25-35 Minuten
Altersfreigabe:
Frei ab 14 Jahre
Durchschnittswertung:
0

/

10

bei

0

Bewertungen

Vorwort
AS FOOD TRUCK TITANS…
Send your food truck team to score sales at various venues throughout town. You can only visit each venue once and will need to carefully plan your route and take sales opportunities when they are arise. Drive efficiently and score bonuses, or race to the finish and hit the big-time payouts on the way. Plan your route but expect the unexpected in your path to food truck infamy!
Truck Off: The Food Truck Frenzy Roll and Write is a stand alone game and follow-up to the original Truck Off: The Food Truck Frenzy. It throws navigation, risk mitigation, and press your luck into the same meal pack for you to digest.
In Truck Off Roll and Write, all players are driving their food trucks around a grid system town map, and marking off venue locations in a secondary location called a route tracker for each venue they visit. All players will visit a new venue each turn and then mark the value of their corresponding venue dice directly scoring them points. If you mark three venues in one row or one column of the route tracker, you gain a bonus. Bonuses help you navigate around town, allow you to reroll your dice more, drive farther, drive faster, and promote venues to make them more valuable.
Each turn, the active player rolls the set of polyhedral dice. The active player may reroll up to one die to help the sales on their route or hurt the sales on their opponents route. Then all players select one open venue to drive to if possible up to 4 spaces away following a grid movement system. Each player then marks the value of the die on the corresponding location of their route tracker always progressing their route tracker.
Route Tracker: The route tracker is made up of six columns, one for each of D4, D6, D8, D10, D12, and D20 venues. However, the route must always progress forward from D4 to D20 and snake back to D4. If you skip a venue in your route, then you may not return to that venue on the route tracker. The route tracker will play a big role in your pathing around the town and also allows you push the game toward end quicker than your opponents expect.
To win the game and score the most sales, you'll need to plan your efficient route, take high sales opportunities when they present themselves, and figure out how to reroute your food truck if you deviate from your plan.
Dies ist ein Spiel-Datensatz. Bislang wurde noch kein ausführlicher Spieltest hinterlegt.
Momentan sind zu diesem Spiel noch keine Wertungen vorhanden.


Bilder
Momentan sind zu diesem Spiel noch keine Videos vorhanden.
Ähnliche Spiele
Per Doppelklick auf das Cover könnt Ihr zum Test des ähnlichen Spiels springen:
Leserkommentare
News