Datensatz vom 20.06.2014
Space Cadets: Dice Duel – Die Fighter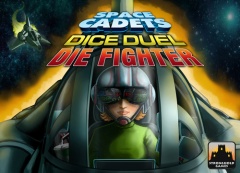 Details
Verlage:
Autoren:
Illustratoren:
Genres:
Spielmechaniken:
Release:
2014
Anzahl der Spieler:
2 bis 10 Spieler
Spielzeit:
30 Minuten
Altersfreigabe:
Frei ab 12 Jahre
Durchschnittswertung:
0

/

10

bei

0

Bewertungen

Vorwort
Space Cadets: Dice Duel – Die Fighter brings two new experiences to the Dice Duel universe to give veterans a whole new way to play:
• Fighters are flown by a single person and are fast and maneuverable, but lack shields and can be easily destroyed. In "Carrier Strike", suitable for 6-10 players, each team gets one original ship (now called a Capital Ship) and one fighter. "Fighter Assault" has two fighters trying to take out a single heavily armed capital ship and is designed for 4-6 players. Finally, "Fighter Duel" brings the Dice Duel experience to two players, as two fighters go head-to-head for a quick and intense battle.
• Experimental Equipment cards upgrade the capital ships with a variety of unique and powerful abilities. Through a draft mechanism, each side selects two upgrades and needs to tailor their strategy to take advantage of their strengths. The 27 cards include new weapons, enhancements to existing systems, new movement options, and more.
Dies ist ein Spiel-Datensatz. Bislang wurde noch kein ausführlicher Spieltest hinterlegt.
Momentan sind zu diesem Spiel noch keine Wertungen vorhanden.


Bilder
Videos
Ähnliche Spiele
Per Doppelklick auf das Cover könnt Ihr zum Test des ähnlichen Spiels springen:
Leserkommentare
News
RSS
Aktuelle News
Samstag 20.12.2014

Nachricht von 09:20 Uhr, Smuker, - Kommentare

Die Weltraumspiele von Stronghold Games sind sehr beliebt und so wundert es keinen, dass einige weitere Folgen und die schon vorhandenen mit Erweiterungen glänzen dürfen. In Essen erschien...

...
Weiter zu allen News