Datensatz vom 03.01.2013
Venetia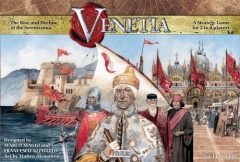 Details
Verlage:
Autoren:
Genres:
Spielmechaniken:
Release:
2013
Anzahl der Spieler:
2 bis 4 Spieler
Spielzeit:
90 Minuten
Altersfreigabe:
Frei ab 12 Jahre
Durchschnittswertung:
0

/

10

bei

0

Bewertungen

In Venetia, players compete to become the most prosperous and influential noble family in the history of the Serenissima Republic. From its rise in the ninth century to its decline and fall in the eighteenth, players take part in the golden age that built the city that once was the Queen of the Mediterranean.
Each player controls a patrician household, vying for power against other influential families. To gain clout and fortune (i.e., victory points), families extend their Influence outside the city, sending representatives to foreign markets. As their authority spreads, the power of Venice increases accordingly, and distant towns and ports fall under the sway of the Serenissima. In the meantime, players compete inside the city for the coveted title of Doge, the head of the government, spending resources and Ducati (money) to gain popularity.
But the hegemony of Venice over the Mediterranean is threatened by many enemies. The Republic faces the rise of competing powers, such as the rival seafaring Republic of Genoa and the kingdom of Aragon to the west, or the Eastern Roman Empire and then the Turks to the east. Century after century, players will take part in the struggle that will see the rise and fall of the Republic of Venice.
Venetia is played across three epochs: Rise, Apogee and Struggle. A Power track on the board is used to record the passage of time. Venice starts the game in its Rise, and the game ends when the Struggle epoch is completed. Players score VPs at the end of every epoch, and the player with the highest score at the end of the game wins!
Dies ist ein Spiel-Datensatz. Bislang wurde noch kein ausführlicher Spieltest hinterlegt.
Momentan sind zu diesem Spiel noch keine Wertungen vorhanden.


Bilder
Momentan sind zu diesem Spiel noch keine Videos vorhanden.
Ähnliche Spiele
Leserkommentare
News