Datensatz vom 21.10.2017
Rambo: The Board Game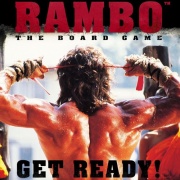 Details
Verlage:
Autoren:
Illustratoren:
Genres:
Spielmechaniken:
Release:
2018
Anzahl der Spieler:
1 bis 4 Spieler
Spielzeit:
60 Minuten
Altersfreigabe:
Frei ab 14 Jahre
Durchschnittswertung:
0

/

10

bei

0

Bewertungen

Vorwort
Rambo: The Board Game is a thematic, cooperative, tactical, miniatures, scenario-based campaign game that allows 1-4 players to experience the events they remember from the film as well as embark on new, never-before-seen missions.
The game provides sealed "Self-Expanding" mission envelopes that gradually add to the game as each mission started and completed. Each mission tells a story and takes the players on a unique adventure to various locations to save POWs, escape a military prison, raid a jungle encampment, defend a secret air base, survive a treacherous jungle, and more! Missions unlock new equipment and tactics to help players customize their experience and allow for high replayability and great tactical strategy. Taking actions and engaging in combat is done without random dice, but with a card-based system in which the player is in control and where every choice can be life or death!
To set up, players choose from an iconic variety of special forces characters each with highly detailed miniatures, including, of course, John Rambo, Col. Trautman, other members of Baker Team, and other companions that Rambo teamed up with over the years. Each hero has unique abilities and customization options that make them valuable during missions. You control how to approach the mission: Do you go in guns blazing? Or do you take a more stealthy approach? Perhaps you set a trap for the enemy? It's up to you to decide and lead Rambo and his team to victory!
Dies ist ein Spiel-Datensatz. Bislang wurde noch kein ausführlicher Spieltest hinterlegt.
Momentan sind zu diesem Spiel noch keine Wertungen vorhanden.


Bilder
Momentan sind zu diesem Spiel noch keine Videos vorhanden.
Ähnliche Spiele
Leserkommentare
News