Datensatz vom 21.09.2015
Waste Knights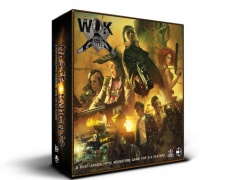 Details
Verlage:
Autoren:
Illustratoren:
Genres:
Spielmechaniken:
Release:
2015
Anzahl der Spieler:
2 bis 4 Spieler
Spielzeit:
90-240 Minuten
Altersfreigabe:
Frei ab 14 Jahre
Durchschnittswertung:
0

/

10

bei

0

Bewertungen

Waste Knights is a post-apocalyptic game of adventure and combat on the ruins of Australia.
Welcome to Australia. The continent has been bought and broken in two by experiments of a powerful corporation Cerbero. Now it kneels divided waiting for the fall. The government is non-existent and so are any laws of men. Desolated wastelands are roamed by mutated beasts, decades-old machines running on corrupted software and degenerate humans who are even more dangerous. In those few pockets of civilization left people are more interested in survival than in progress. Values like compassion and responsibility are scarce – even scarcer are fuel and ammo needed to face new reality. But things are about to change as there are still those who care. Will you muster enough hope to fight for better future? Will you stand tall and shine the beacon of your courage in this darkest of times? The Waste is calling – better be ready to answer…
Waste Knights is a post-apocalyptic adventure game for 2-4 players set in dystopian Australia now called the Waste. Each player becomes a hero who travels around the continent fighting monstrous enemies, accomplishing Tasks to acquire new Gear Cards and hoping to gain enough Reputation in order to fulfill the Mission being played. All players share a common goal set by the Mission, but only the quickest and the most cunning will manage to win!
Waste Knights features unique rules' systems. Players need to manage 4 different resources: Fuel, Ammo, Health and Radiation as reaching a certain level in any means almost certain death in the Waste. They move using different Vehicles, face threats shown on Wasteland Cards and explore various locations on a modular, hexagonal map that is formed of 37 hexes. Combat is both deadly and rewarding as players set the range, utilize Combat Cards with different maneuvers and have various melee and ranged weapons at their disposal. Additionally the Waster, the person opposite the active player, controls the game to some extent choosing threats and making combat decisions for enemies.
But Waste Knights is not only about fighting and moving. Players progress by accomplishing Tasks – short quests given by inhabitants of the Waste. Some of them require tactical acumen, others are based on Skill tests or getting certain goods. Finally, a unique barter system allows players to trade Gear Cards of different colors as in the post-apocalyptic future there is no currency system whatsoever. Thanks to this some players will win by strength while others by brains – and all will have a good time playing!
Dies ist ein Spiel-Datensatz. Bislang wurde noch kein ausführlicher Spieltest hinterlegt.
Momentan sind zu diesem Spiel noch keine Wertungen vorhanden.


Bilder
Momentan sind zu diesem Spiel noch keine Videos vorhanden.
Ähnliche Spiele
Per Doppelklick auf das Cover könnt Ihr zum Test des ähnlichen Spiels springen:
Leserkommentare
News