Datensatz vom 12.10.2018
Farao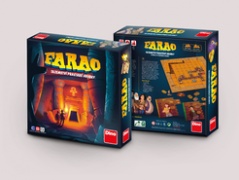 Details
Verlage:
Autoren:
Illustratoren:
Genres:
Spielmechaniken:
Release:
2018
Anzahl der Spieler:
2 bis 6 Spieler
Spielzeit:
20-50 Minuten
Altersfreigabe:
Frei ab 6 Jahre
Durchschnittswertung:
0

/

10

bei

0

Bewertungen

Vorwort
Family game with strategic elements and modular board. Players are discovering mysterious thumb which might hide Tutanchamon's grave. They ecounter traps as well as usefull items while discovering labyrinth of passages leading to the heart of the pyramid.
Althought the game usually develops in atmosphere of suprise and mystery (and there is an element of luck) there is also fair amount of strategic thinking (you can ifluence the labyrinth, plan ahead, cooperate with your three archeologists etc).
Game accomodates well different playing styles - it can be played purely thematicaly by beginners or more strategicaly by players who are so inclined. For eyample the strength of individual items depends on the random setup of the board which is reavealed during the game, so players may want to optimize for this.
Game has two levels
Small pyramid is suitable for beginners, which contains half of the obstacles and the labyrinth is smaller, so the game lasts about 30 minutes
Large pyramid version is for player who wish for longer game with more space for combining items and tactics. The basic rules are the same, so even beginners and younger children can pick up this extended version after some experience with the basic one.
Game is largely language independent.
Dies ist ein Spiel-Datensatz. Bislang wurde noch kein ausführlicher Spieltest hinterlegt.
Momentan sind zu diesem Spiel noch keine Wertungen vorhanden.


Bilder
Momentan sind zu diesem Spiel noch keine Videos vorhanden.
Ähnliche Spiele
Leserkommentare
News