Datensatz vom 01.07.2015
BattleLore (Second Edition): Hernfar Guardians Army Pack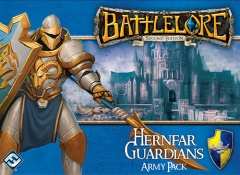 Details
Verlage:
Autoren:
Genres:
Spielmechaniken:
Release:
2015
Anzahl der Spieler:
2 Spieler
Spielzeit:
90 Minuten
Altersfreigabe:
Frei ab 14 Jahre
Durchschnittswertung:
0

/

10

bei

0

Bewertungen

Bring unprecedented military might to the battlefield with the Hernfar Guardians Army Pack expansion for BattleLore Second Edition. In Hernfar Guardians, you will find four new Daqan unit types: Greyhaven Battlemages shield your forces with spells, Citadel Lancers charge and trample enemy troops, while armored Ironbound automatons and giant Siege Golems withstand against enemy onslaughts while delivering brutal attacks. Hernfar Guardians includes twenty-five figures representing these new units and nine additional Citadel Guard figures are included, along with everything necessary to use these units in battle. Army cards suggest deployments composed entirely of the units included in Hernfar Guardians, and a full lore deck grants incredible abilities to all Daqan units. New terrain tiles and scenario cards create never-before-seen battlefields and offer players fresh tactical challenges. Hernfar Guardians contains: • The first expansion for the Daqan army in BattleLore Second Edition • Contains four new unit types with over thirty figures and everything necessary for deployment • Army cards offer ways to integrate the new units into powerful armies • New terrain tiles and scenario cards introduce new battlefields and tactical challenges • A full deck of Lore cards enhancing the abilities of all Daqan forces.
Dies ist ein Spiel-Datensatz. Bislang wurde noch kein ausführlicher Spieltest hinterlegt.
Momentan sind zu diesem Spiel noch keine Wertungen vorhanden.


Bilder
Momentan sind zu diesem Spiel noch keine Videos vorhanden.
Ähnliche Spiele
Per Doppelklick auf das Cover könnt Ihr zum Test des ähnlichen Spiels springen:
Leserkommentare
News