Datensatz vom 08.09.2015
Hoppers: Chinese Vampire Action Adventure Game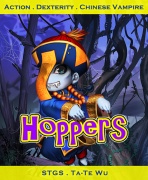 Details
Verlage:
Autoren:
Illustratoren:
Genres:
Spielmechaniken:
Release:
2015
Anzahl der Spieler:
4 bis 9 Spieler
Spielzeit:
5 Minuten
Altersfreigabe:
Frei ab 8 Jahre
Durchschnittswertung:
0

/

10

bei

0

Bewertungen

What are Hoppers? Hoppers are Chinese vampires (a.k.a. Jiangshi). Unlike the blood-craving vampires of Western myth that turn into flying bats, Chinese vampires do not transform and their bodies become stiff. The only way for them to travel is to hop and that's why they are called hoppers (well, that's why I call them that).
Hoppers is a 4 to 9-player action/dexterity party game for all ages. In the game, players are guardians of the realm and each holds a power stone that gives them the ability to travel into the Mystic Forest. Player must beware, however, because one of the players may be a demon in disguise and hold the evil Hopper Stone.
Each game of Hoppers is played over the course of up to five rounds. In each round, players attempt to pass a dexterity challenge in the Mystic Forest and only successful players can examine the stones of power. When a player's matching power stone is found, the player has the ability to capture the Hopper Stone and win the game. Otherwise, the game ends in the Hopper's Way and all guardians disappear into the dark of the Mystic Forest.
Dies ist ein Spiel-Datensatz. Bislang wurde noch kein ausführlicher Spieltest hinterlegt.
Momentan sind zu diesem Spiel noch keine Wertungen vorhanden.


Bilder
Momentan sind zu diesem Spiel noch keine Videos vorhanden.
Ähnliche Spiele
Leserkommentare
News