Artikel vom 26.07.2006
Autor
: Kevin Jensen
Kategorie
: Interviews
Umfang
: 2 Seiten
Kommentieren
(0)
Interview mit dem Munchkin-Macher Steve Jackson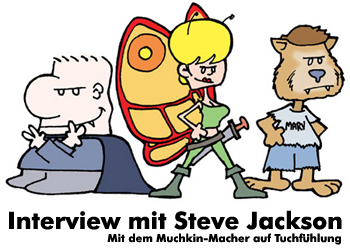 Deutsch | English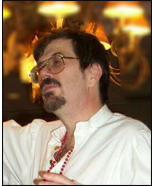 cliquenabend.de:
Hi Steve! Could you give us a brief introduction about yourself, for readers who don't know your games or Munchkin?
Steve Jackson:
I'm a gamer. I've been creating games professionally since the mid-70s. It's what I like to do.
cliquenabend.de:
When and how did you come up with the wild idea creating a card game that obviously uses sarcasm to ridicule the usual role playing world?
Steve Jackson:
Midsummer 2001. I don't know exactly when I thought if it, but I know exactly when I made up the first set of cards . . . on an airplane, flying to a convention, on the back of blank INWO cards. As to how - I have always loved parody, and the culture of hack-n-slash roleplaying surely deserved some parody. It's fun to laugh at ourselves!
cliquenabend.de:
Do you have any explanation why Munchkin is so much fun? How would you describe the game for newcomers?
Steve Jackson:
Taking the second question first: If the newcomers were familiar with RPGs, I'd say "A silly card game about dungeon-crawling and backstabbing." If they weren't familiar with RPGs, I'd say "Sit down and play and we'll explain it as we go along." And I think it's fun first because of the humor and cartoons, and second because all players are constantly involved in play, and there are no permanent alliances or enmities.
cliquenabend.de:
Who comes up with the different innovative cards for each new episode? Do you work as a team, alone and are there already cards in the game that were created by fans?
Steve Jackson:
98% me. We do accept card suggestions - there is a suggestion page at http://www.sjgames.com/card-ideas/cardform.cgi?munchkin. Most supplements will have a few credits to fans who suggested cards. But I really enjoy working on the game, and keep most of the design job for myself!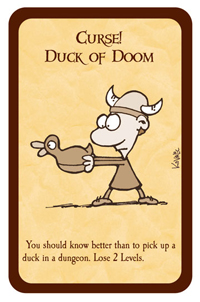 cliquenabend.de:
Munchkin seems to be a never ending success story. You go from super heroes, vampires to ninjas over to space marines and the classical dungeons. What can we expect next?
Steve Jackson:
Munchkin Impossible will be shipping this fall. I'm already working on the one after that. We have not announced the title yet. Will I reveal it here? Maybe! No . . . I guess not. Fnord.
cliquenabend.de:
Do you have a brief overview about the sales figures of the game?
In how many countries and languages is Munchkin available and which country would you define as the master of Munchkin-Fans?
Steve Jackson:
You know, I don't know offhand how many we have sold. LOTS. Right now it's in English, German, Dutch, Hungarian, Hebrew, Italian, and Spanish. Japanese and Portuguese are on the way. I hope I haven't forgotten any. After the USA, Germany has the most active Munchkin players.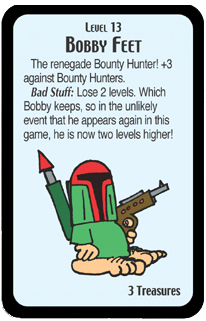 cliquenabend.de:
If you could be a single race of the Munchkin world and could only have one playing card of the Munchkin series in your hand, which ones would it be?
Steve Jackson:
If I can be level 9, I want to be a Cleric who just drew Divine Intervention! Otherwise, I want to be a Halfling who just drew Hoard.
cliquenabend.de:
What is it like to work with John Kovalic? Could you imagine Munchkin without his drawings? What is your favourite Munchkin creation from John?
Steve Jackson:
(a) Fun. Huge fun. And he's fun to game with, too. I wish we lived in the same town!
(b) It wouldn't be the same.
(c) The original Munchkin character, on the cover.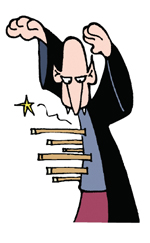 cliquenabend.de:
What other games do you like play with friends, besides your own creations?
Steve Jackson:
All sorts of stuff. Starcraft, Axis & Allies, Puerto Rico, Risk, and whatever else is new.
cliquenabend.de:
Is there anything you would like to tell our readers?
Steve Jackson:
Hi, readers! If any of you plan to travel to the Lucca convention in Italy in October, come see me. Otherwise ... I hope to make it to Essen in 2007 ...
The Interview was held by Kevin Jensen for cliquenabend.de.
Thanks to Steve Jackson for his support.