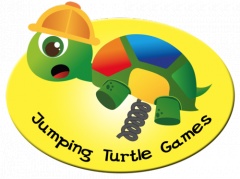 Homepage:
http://www.jumpingturtlegames.be/
Jumping Turtle Games
Jumping Turtle Games is a board game publisher established in 2013 and is based in Belgium.
RSS
Aktuelle News
Donnerstag 26.11.2020
Nachricht von 18:14 Uhr, Mathias, - Kommentare
In der Spieleschmiede ist aktuell ein Projekt des Verlags Grimspire zu einer deutschen Umsetzung von The Warp aus dem Hause Jumping Turtle Games gestartet. The Warp spielt im Jahr 7002....

...
Weiter zu allen News
Momentan sind zu diesem Profil noch keine Videos vorhanden.