Datensatz vom 28.08.2018
Wurst Case Scenario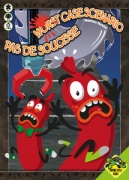 Details
Verlage:
Autoren:
Illustratoren:
Genres:
Spielmechaniken:
Release:
2018
Anzahl der Spieler:
2 bis 6 Spieler
Spielzeit:
10-15 Minuten
Altersfreigabe:
Frei ab 8 Jahre
Durchschnittswertung:
0

/

10

bei

0

Bewertungen

Vorwort
Total chaos in the Wurst Factory! A batch of bad sausages has been produced and on top of that, they are alive! The only solution is throwing them on the conveyor belt and eventually they'll fall in the meat grinder so they can be processed again and become tasty sausages fit for human consumption.
But the sausages will struggle to survive. They want to stay alive as long as possible so they will run away from the meat grinder and push the other sausages in front of them. But they will also have to keep an eye out for the Must-ard who will give them commands they must follow. They can also turn to the May-onnaise who will give them some options they might use. And don't forget the Ketchup. What's a sausage without Ketchup?
Who'll be the last Wurst standing? Will it be you?
Wurst Case Scenario is a funny very lightweight family game. The players are dealt an identity card randomly and they keep their identity a secret. Every turn all players play one card to influence the position of the sausages on the belt. When all players have played their card all sausages move one position further on the belt in the direction of the meat grinder. Eventually the sausages will move onto the meat grinder and they are eliminated from the game (but the owner of the sausage will keep on playing cards). When there is only one sausage left on the belt the game has ended and the owner of the sausage is declared the winner. When your sausage is eliminated, you can still keep on playing to plot your revenge. The eliminated players will try to make sure the last sausages fall in the grinder at the same time (this isn't as easy as you might think) and when this happens there is no winner. We have to admit, this really is the Wurst Case Scenario!
Dies ist ein Spiel-Datensatz. Bislang wurde noch kein ausführlicher Spieltest hinterlegt.
Momentan sind zu diesem Spiel noch keine Wertungen vorhanden.


Bilder
Momentan sind zu diesem Spiel noch keine Videos vorhanden.
Ähnliche Spiele
Leserkommentare
News