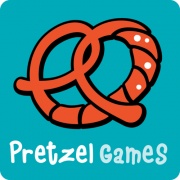 Homepage:
http://www.pretzelgames.com/
Pretzel Games
Pretzel Games aims to publish high-quality dexterity games that you can always play with a pretzel in hand. This studio plans to release two games per year starting at Gen Con 2015. These games will include only wooden pieces in an expertly crafted wooden box. The Pretzel Games studio will release games you can play inside with a group of friends, as well as games to enjoy outside during a backyard barbecue.
Pretzel Games is a studio within F2Z Entertainment, owner of Z-Man Games and Filosofia Éditions.
RSS
Aktuelle News
Mittwoch 03.05.2017

Nachricht von 18:34 Uhr, Smuker, - Kommentare

Geschicklichkeitsspiele aus Holzmaterial sind bei mir und meinem Spielekreis sehr beliebt, werden aber leider nicht mehr oft von Verlagen produziert. Die höheren Produktionskosten vom Material...

...
Sonntag 21.02.2016

Nachricht von 18:02 Uhr, Smuker, - Kommentare

F2Z Entertainment ist der Inhaber der Marken Filisofia Éditions, Z-Man Games und Pretzel Games und Plaid Hat Games. Viele Neuheiten gab es in Essen 2015 und viele dieser Neuheiten erscheinen...

...
Weiter zu allen News
review vom 03.05.2017
Videorezension: Junk Art (Pretzel Games)
review vom 01.08.2017
Flick 'em up! (Pretzel Games) - ab 8 Jahre - Teil 213